Your Contact Center on the Cloud
Amazon Connect is an easy to use omnichannel cloud contact center that helps companies provide superior customer service at a lower cost. Today thousands of companies ranging from 10 to tens of thousands of agents use Amazon Connect to serve millions of customers daily.
Designed from the ground up to be omnichannel, Amazon Connect provides a seamless experience across voice and chat for customers and agents. This includes one set of tools for skills-based routing, powerful real-time and historical analytics, and easy-to-use intuitive management tools – all with pay-as-you-go pricing, which means Amazon Connect simplifies contact center operations, improves agent efficiency, and lowers costs. You can set up a contact center in minutes that can scale to support millions of customers.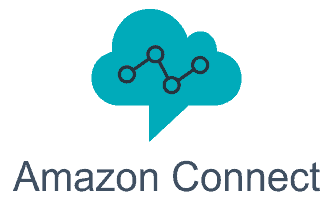 Amazon Connect has a single UI across both voice and chat for contact routing, queuing, analytics, and management. This omnichannel experience means that call center agents don't have to learn and work across multiple tools. With Connect you can use the same automated interactions and chatbots across both channels, so you don't have to rebuild interaction flows, increasing operational efficiency.
Amazon Connect comes with integrated call recording for agent performance assessment to help monitor and improve customer experience.
Amazon Connect comes with pre-built integrations to popular Customer Relationship Management (CRM) systems, like Salesforce, with Workforce Management (WFM), and Workforce Optimization (WFO) suites for agent performance tracking, staffing forecasting and management.
Amazon Connect lets you make calls programmatically using the outbound contact API. You can schedule automated calls for appointment reminders, like doctor appointments and payment due notifications. You can also trigger automated notification calls in response to events. In addition, you can use the outbound contact API to initiate calls from other applications, such as CRM systems, using specific contact flows to inform customers about important information, such as when a service outage occurs.
Amazon Connect supports chat for web and mobile. Using the same contact flows, configuration, routing, analytics, and management tools as voice, Amazon Connect makes it easy for you to quickly offer chat as an engagement channel in your contact center, because you don't have to learn new tools or switch between UIs, and you can reuse the same automated interactions you've already built for voice to automatically create chat contact flows.
Graphical contact flow builder
An Amazon Connect contact flow that defines the customer experience with your contact center from start to finish, including setting logging behavior, setting voice, capturing customer inputs (spoken or by pressing 0-9 on the phone keypad), playing prompts, transferring to appropriate queue, etc. Using Amazon Connect's contact flow builder's graphical user interface, contact center managers can easily create dynamic, personal, and automated customer experiences, without the need to write a single line of code.
Real-time & historical analytics
Understanding your contact center at the most granular level is key to improving performance and lowering costs. Amazon Connect offers powerful analytics tools out-of-the-box, including a visual dashboard with customizable real-time and historical metrics.
To learn more about how Magic Beans can help your business with Amazon Connect, contact us at team@magicbeans.pt

© Copyright - | magic beans | All Rights Reserved | Powered by: valkirias